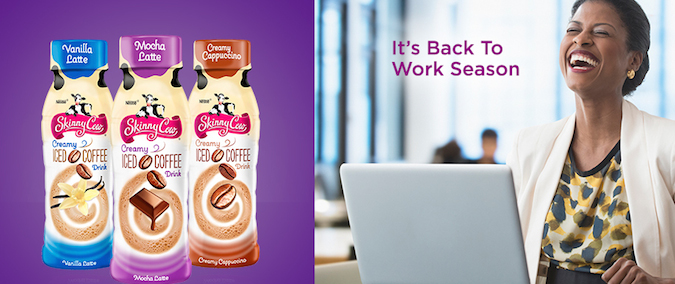 Hi Foaper!
You might be familiar with Nestlé's Skinny Cow delicious frozen snacks and candies. Now, did you know that since last year Skinny Cow Iced Coffee is also around? And it is so creamy! For everyone's pleasure, we have now teamed up with Skinny Cow to launch a new Mission for you: Skinny Cow Creamy Iced Coffee Back to Work Season!
The Mission winner will receive $250! To join you will need a Skinny Cow Iced Coffee in any of the three yummy flavors available: Vanilla, Latte Creamy Cappuccino and Mocha Latte. Find where to buy Creamy Iced Coffee at https://www.skinnycow.com/everything-else/where-to-buy.aspx, Walmart.com or Amazon.com.
---
Join now in the Foap app!
Don't know how to join the Mission? It's easy! Download the Foap app on the App Store or Google Play.
To get the app follow one of the links below:
I'm an iPhone user.
I'm an Android user.
Get some inspiration and a smile on your face: Check out this Skinny Cow Iced Coffee funny commercial =)
[embedyt] http://www.youtube.com/watch?v=4dZuqjWV3sw[/embedyt]