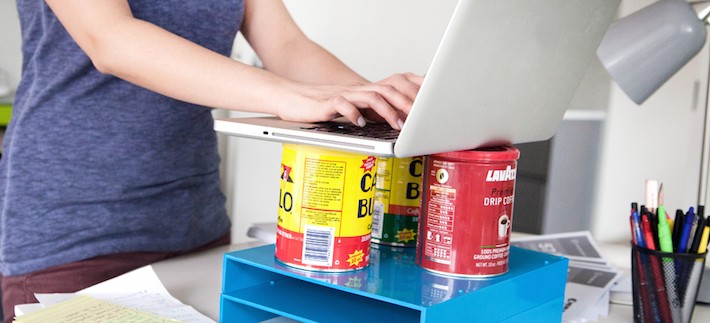 As a hobby photographer you know how important it is to get outside, move your body and clean your mind. Spending hours in an office, sitting in front of a computer all day can be terrible for your health.
Standing during office hours can help a lot. You can reduce risks of obesity, diabetes, cardiovascular disease and cancer. Many people know that and they set up desk hacks, using box and books so that they can get their computer at a comfortable height.
Do you recognize that? Maybe you are hacking your own standing desk at work? Or your colleagues? Well, regardless of your answer, now it's time to take a stand and join a new Mission by Inmovement: Desk Hackers Unite. Read the brief below and join the Mission in the Foap app.
The Mission
The negative effects of sitting all day at a desk are inspiring more and more people to take a stand at work. They're finding anything they can to turn their workspaces into standing desks. And we want to see yours. Submit a photo of your own desk hack and you'll have a chance to win a real standing desk solution, from our ElevateTM DeskTop series. Let's have some fun. Take a stand, and enjoy the mission!
Prizes:
The Winners will receive standing desk solutions, from Inmovement's ElevateTM DeskTop series.
---
Join now in the Foap app!
Don't know how to join the mission? It's easy! Download the Foap app for free on the App Store or Google Play.
To get the app follow one of the links below: