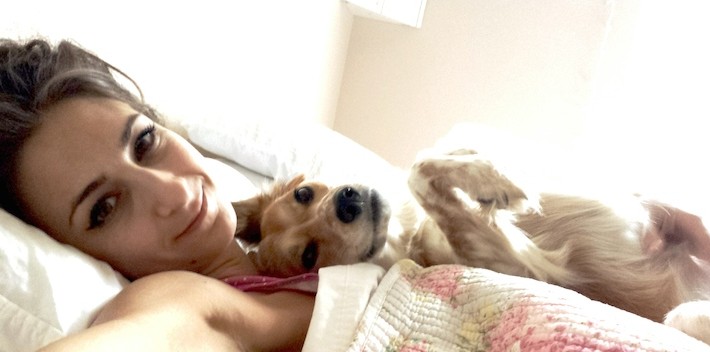 Meet the lovely author of the photo above. Amanda Winski @amandawinski from Texas (part Polish) is the lucky winner of "The first minutes of your day" Mission.
First of all congratulations on winning the mission! You're quite new to Foap. How did you learn about it and why did you decide to join the Community?
I actually heard about the app from my mom! She knows I'm a bit of an amateur photographer and thought I'd do well with it. Thanks, Mommy! Ha!
Your winning photo is amazing! Where was it taken and what's the story behind it?
Thank you! Truthfully, I really did take it a few minutes after waking up in my bed. My dog, Penny Lane is one of my favorite subjects to include, especially when she is cuddling in the mornings. Dogs are a girl's best friends, too!
We'd love to get to know you better Amanda. Could you share more details about who you are, what does your daily life look like?
Currently, I'm an Assistant Apparel Designer at a Western Wear manufacturer in Fort Worth, TX. I went to school for Textiles & Apparel with a specialization in Fashion Design, so obviously I'm a very aesthetic person! Fun fact: I interned for Betsey Johnson in NYC during college. I'd also like to mention that I was diagnosed with Crohn's Disease at age 9. Dealing with the challenges that's presented throughout my life really helped to develop my perspectives about life, in general. I love photographing the small, beautiful moments in life that others might not notice.
When did you receive your first camera and how did your interest in photography start?
I received my first camera when I was about 7. It was purple, plastic, and very rectangular. I think my mom bought it for me at a garage sale when we were visiting my grandparents in Pennsylvania. I was so young that I didn't entirely understand how cameras work. But, I remember walking around my grandparents house and land and taking such pretty pictures! I especially remember one of a plastic swan planter sitting near a crab apple tree. It was filled with pink flowers and I couldn't wait to see how the picture turned out! I even opened the back of the camera to make sure the film was still in it. Much to my disappointment, my mom informed me that having exposed the film, my pictures couldn't be developed! My first go at photography was exceedingly disappointing! Ha! But, I've always been interested in photography. My mom studied visual design in college and passed on her love of photography to me. After having been her subject for years, I decided to get on the other side of the camera!
Which of the photos in your portfolio is your favourite one and why?
I think my favorite would have to be the leaf with dew on it. Partially, for the picture itself and also, for the story behind it. I was walking my dogs very early in the morning a few years ago, when I lived in Austin. I had recently had surgery and was feeling quite weak. It was probably around 6 am and I was tired and a little annoyed to be outside. I looked down and saw this leaf. Its simple beauty made me smile. I'd wished I had my camera! I finished walking the dogs and took them back up two flights of stairs to our 3rd floor apartment. Despite my weakness, I decided to grab my camera and return to the leaf to take a picture. Such a simple thing made me smile and appreciate my morning. The rest of that day was lovely and it was a positive lesson. All from a little leaf!
What are your next Foaper's plans? Are you planning to photograph something particular?
I'll keep adding photos and hoping people find what they are looking for in them, the way that I do. I hope that perhaps one of my photos will change someone's day the way a leaf was able to change mine! I'm an annoyingly optimistic person, in case you haven't gathered that, already. No plans for anything particular. I know when a picture perfect moment has presented itself! I just have to wait.
Thank you again for all of this! I truly feel special! It is quite an honor to be chosen, especially for a photograph of such a happy, genuine moment with one of my favorite creatures!
Thank YOU Amanda for sharing your story and for being with us. We love your optimism and we're looking forward to your next photos!