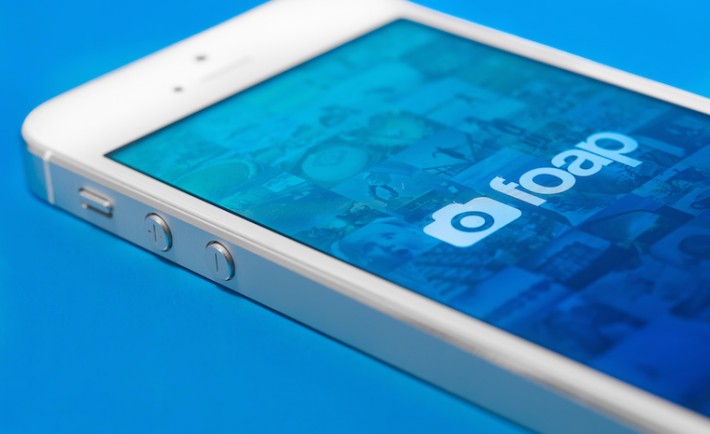 Hi Foapers,
We're happy to share that we're introducing a completely new, upgraded photo upload in Foap apps. Our goal is to make your upload experience as smooth and as fast as possible.
The new features are available in version 3.1.0  of Android app, which will be distributed in the coming week. If you don't have it yet, please wait few more days, until it's available for you on Google Play. As for iOS users, the app is pending approval in App Store and it should be available next week. It will be version 2.1.0.
Here are the major changes that you should be aware of:
Community Review is gone
As photo upload is the core of the Foap app, we're aiming at making it an effortless experience. We don't want the Community Review to block Foapers from uploading new photos, still our goal is to keep the quality high.
That's why we decided to remove the Community Review from the app. In the new version, every photo uploaded to Foap goes directly to the Market or a Mission. We replaced the Community Review with a new scoring system – Visibility Status, that determines the place where a photo is displayed on the Market and how much exposure it gets.
How does the new upload work?
After uploading a photo it's directly published to the Market or a Mission. By providing more details about the photo you increase its Visibility Status – position at which it is displayed.
There are 5 Visibility Statuses, the names and conditions to achieve them are:
Very Low – photo is uploaded and automatically published to the Market or a Mission.
Low – photo is given a Title. Story behind the photo is optional.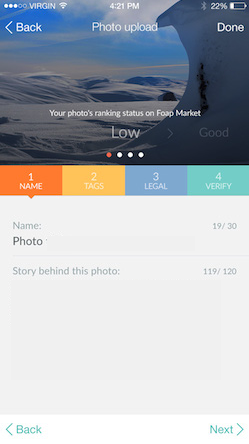 Good – photo is tagged with at least 5 tags (picked from suggested ones or typed).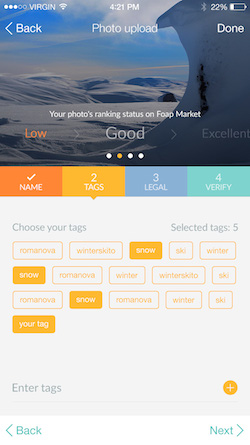 Excellent – legal questions are answered.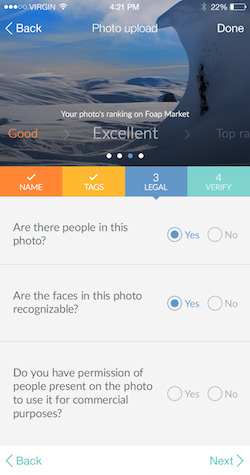 Top Ranked – Foaper needs to be verified.
You can still rate the photos by going to the Explore tab and choosing the star in the top right corner. Rating impacts the position at which a photo is displayed within its current Visibility Status. Photo with Excellent Visibility Status will always be displayed in a better position than a photo with Low status. If two photos have Excellent Visibility Status, then the one with higher rating will be displayed in a better position.
View this video to see how the new upload works in details:
Multiple upload
With the latest version you can upload as many photos as you like with a single tap.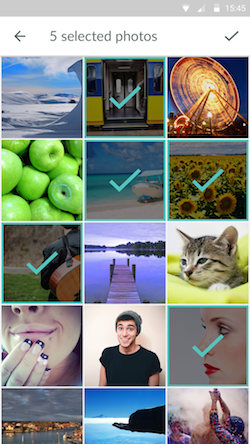 How does it work?
Go to Photo Upload.
Check the photos that you want to upload and confirm.
The photos are uploading one by one and you can see the progress in the Manage photos tab.
Once the photos are uploaded, they all are already available on Foap. You can increase their Visibility Status by providing more information about each of them.
Suggested tags
This is something to make the tagging much easier. We've implemented an engine, that suggests tags based on the image recognition algorithms. You can choose the tags that describe your photo best by tapping on them. You can also type in your own tags.
Other improvements
We've made a few bug fixes and introduced small improvements.
For example: Missions ending within 24 hours show a countdown in hours. Feel free to upload new photos at the very last moment.
These changes will have an impact on a few aspects of your in-app experience. We'd love to hear your thoughts on it! Please download the latest versions from App Store or Google Play once they're available and give them a try.
We're here to listen 🙂
Foap Team