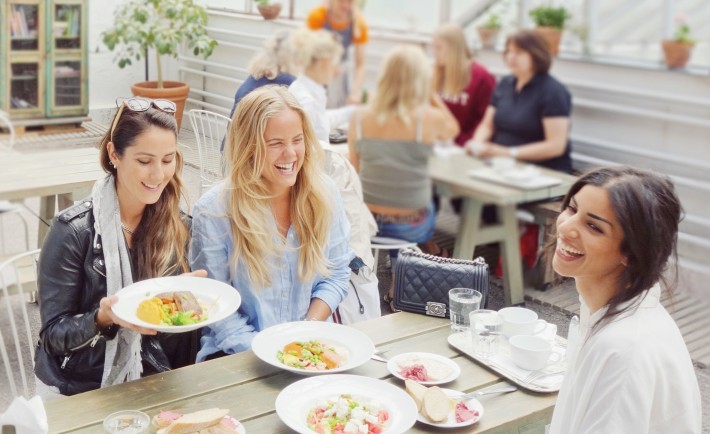 "Dinner with friends" was a great Mission! We got many beautiful shots illustrating people having a wonderful time together. Food unites people, and creates occasions for great talks and laughs. This great photo by Annika Holtz @annikaholtz captures all of that and even more and it has been selected by our team as the winner of the Mission. Today we have the pleasure to share an interview with Annika and learn more about her, her photography and her winning shot. 
"Friends and food make us happy" is the title of your winning photo. Do you recall this particular time when you captured this moment? How did you feel at that time and what's the story behind this picture?
So it was captured at this very nice, expensive restaurant just outside Stockholm City. Me and my co-workers (also best friends), that I spend pretty much every day with, and that I love, decided that we were worth going there after a long, cranky, messed up day at work. Even if we had to drive for a while to get there with our cranky starving stomachs, we were still so worth their food because it´s amazing. And so are these women!
A day to remember because it had such a good end and nothing of what happened at work earlier that day meant anything once that food arrived. We just had to capture that moment and make it everlasting.
Your bio mentions "endless passion for horses" and your portfolio reflects that in a beautiful way. How did this passion start and how do you combine it with photography?
It started early as a young teenager. I used to spent each and every minute in the stables rather than anywhere else. I´ve always loved horses and I started bringing my moms camera cause I wanted to take photos of the pretty horses and print larger photos to frame them and hang on my wall rather than buying posters. I spent a lot of my savings to by my own camera. It was automatic but still with a film that I also had to pay to get developed. My first really good picture of my favorite horse was taken in 1994. I was 13 years old at the time.
What are the challenges with photographing horses?
The biggest challenge is to capture a good moment of course. I don´t use a heavy camera anymore because I want to be able to carry it with me everywhere, even when out riding by myself. So I use a smaller compact camera now and I think that it's very challenging to be able to take as good photos as with a system camera.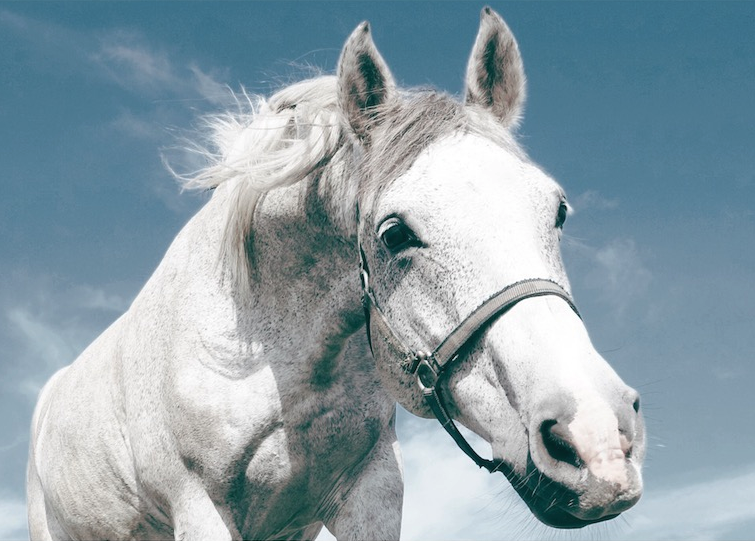 You have many stunning pictures in your portfolio. Which one makes you really proud and why?
Just last year, when I was in California living at a horse ranch we released a pack of twentyfive horses to run out on the field after being inside the stables for a few days. I stood just beside the path so I could snap some photos of that moment. The horses ran in full speed towards me. I could feel the ground shaking from all that horse power and I was a little bit scared to be honest because it was a risky spot to be in when horses run in full speed. I did manage to snap a couple of photos that I´m really proud of though. One of them I use as a header on my Foap profile.
We love to know more about you: Who is Foaper @annikaholtz? We'd love to get to know you better.
Annika is my first name and Holtz is my last. I do have a middle name as well which is Sofia. I was born and raised in Sweden. I am 34 years old, living in the capital Stockholm together with my Australian dog "Mini". I work with Digital Media which includes a lot of photo editing. I use that knowledge when editing my horse pictures now. I've been spending my summer holidays in the US since I was a child, mostly in Michigan at a horse ranch. Later I visiting another ranches in California which I still do now as an adult. My passion for horses grows stronger every year and I keep learning new things about them (and myself) all the time.
Could you please share some tips with other Foapers who'd like to start photographing horses.
I think that if you want to take pictures of horses the main thing is to capture their majestic appearance and body. That you´ll not do from above tough. I usually crawl on the ground when I have a photo sessions with the horses.
Thank you Annika for sharing your story and we're looking forward to seeing your next photos!