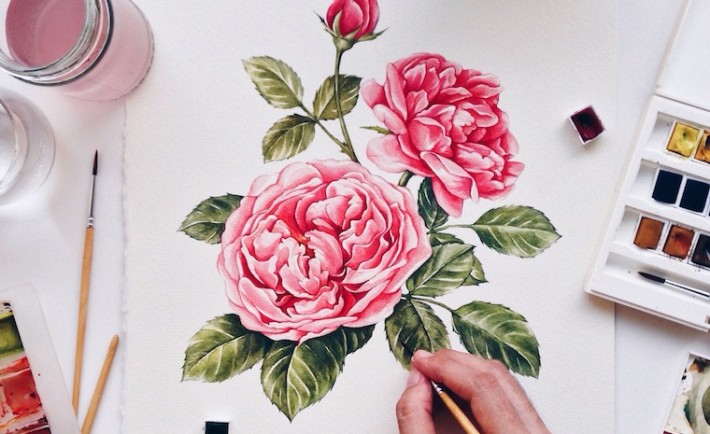 It was not only about laptops, notebooks or pencils. "Desk from above" Mission showed that Foapers are really creative and their desks do reflect that. You could see that in the photos of the finalists that the desks are filled with art and sometimes with quite unexpected items. The same case is with the wonderful winning photo by Somrudee Doikaewkhao @seedjan. Her desk is filled with a beautiful artwork.
We asked Jan about some tips on how to take photos of great compositions, as she's really mastered these kind of photography. Enjoy!
Somrudee, congratulations on winning this Mission. Your photo is amazing! What made you take it? Please share the story behind it.
Thank you so much, I'm super happy and so excited. I didn't even think that my photo could win as it was the first Mission that I joined on Foap. With this photo I captured my illustration work – roses watercolour painting. This is one of my works that I'm really proud. I usually take photos of my work in progress or once it's finished. I try to capture my workplace setting and composition of my artwork with the materials I'm using to show a bit of my lifestyle. My favourite perspective is the one from above as all the details are clearly visible.
You're quite new at Foap and we'd love to get to know you better. Who is Foaper @seedjan?
My name is Somrudee Doikaewkhao or call me "Jan".  I'm a freelance illustrator and graphic designer based in Bangkok, Thailand. I love shooting with iPhone, all my photos are taken with iPhone. Most of my photos capture food and ingredients compositions. This is my real inspiration. I love  food photography and buying vegetables and fruits. I always feel excited, and so happy (maybe that's because I love to eat??? haha).
How did your passion to photography start and how did you learn about Foap?
I love taking photos with iPhone. When I have some free time I set the composition of everything around me and shoot lots of photos. I also like mobile apps about photography. Therefore, I have joined Foap earlier this year. That was the beginning of me sharing my photos. I'm super happy and excited every time someone is interested in buying my photos. I used Foap for months but I have never joined a Mission.  "Desk from above" Mission was the first one I took part in! It was recommended to me by one lovely Foaper. From now on I'll always try current Foap Missions. Foap enables me to see the beautiful photos of Foapers and makes me see the whole world.
Your portfolio is full of amazing shots of food and ingredients compositions. How do you prepare for shooting such photos? What is your advice for Foapers that would like to try this kind of photography?
I'm not a professional photographer, but I'm happy to share my own style I developed. Personally, I prefer bright images and always shoot during a sunny day. I always use the natural light coming from the balcony of my room. It makes the photos really bright. I never set lighting before (because I don't have one, haha). I take lots of photos until I get the right shot. After shooting, I often use photo editing applications to make my pictures look better. I use VSCO and PS Express.
My favourite part of taking photos is the process of preparing the composition. For example, if it's a photo of breakfast, the best part is to decide on which utensils to show. It actually makes me a collector of tableware (haha). I collect good fabrics to create beautiful backgrounds and set the mood of my photos. I always try to make some part of my lifestyle visible in the photo. Sometimes it's a food magazine or a sketchbook and a pencil. They make the photos more lively. I hope these advice would be useful for some of the Foapers.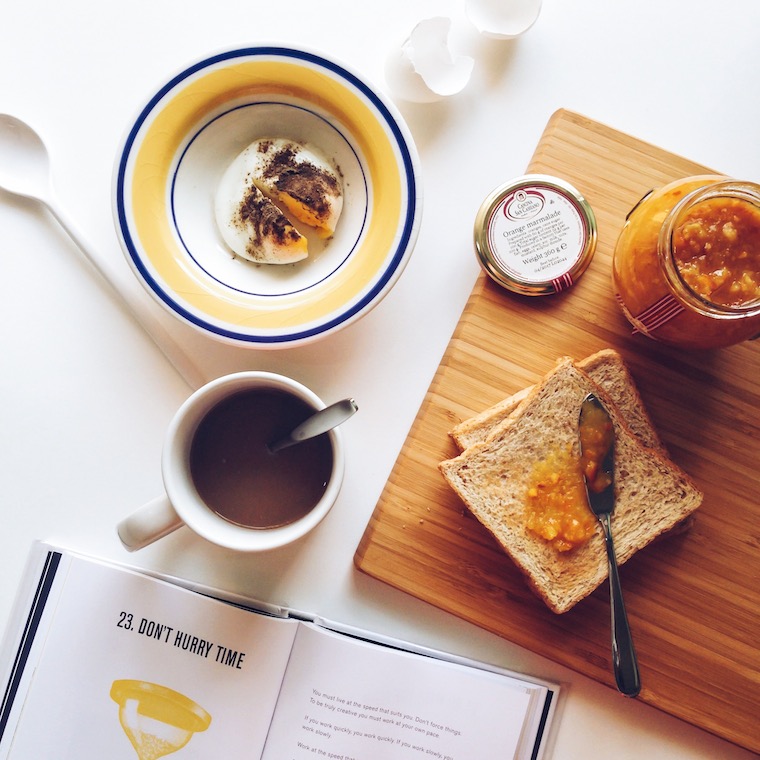 Of which photo from your portfolio are you particularly proud and why?
The photo that I'm proud of the most would be roses watercolour painting that won this Mission. This fact  makes me even more proud of it! This image shows my illustration work and my composition at the same time. But I also really like my food photos, especially breakfast photos as they make me feel fresh and make me feel hungry.
You live in Bangkok, Thailand. Which places in Bangkok are your favourite ones?
I live in Bangna, Bangkok. During a sunny day or weekend I love to go for a walk to the "Suanluang Rama IX Public Park" because it is near my house. When I see the green plants, I feel refreshed. There is a botanical garden, ferns and orchids greenhouse, geodesic dome, indoor plants greenhouse in this park. At the end of the year there will be Suanluang Flowers Festival. I like to have a picnic and go on a water bicycle and watch the sunset in the evening. If you like the natural place to relax or would like to learn the plants of Thailand, that's the best place to visit.
Thank you Jan for sharing your story and tips on how to shoot the pictures from above!