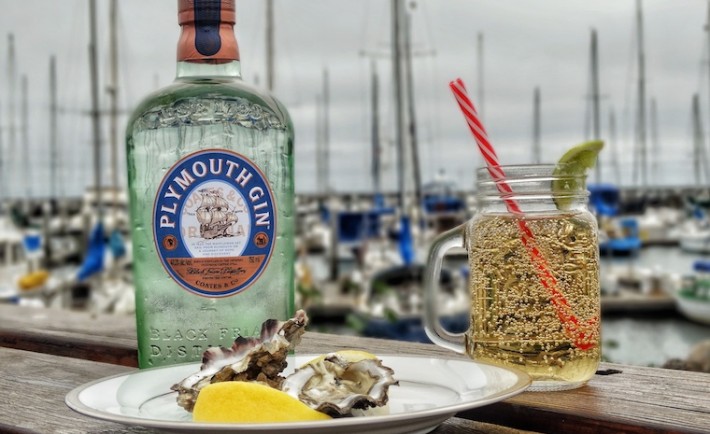 Plymouth Gin's latest Foap Mission, "Pair your Plymouth", was all about combinations. "What's the perfect partner to your Plymouth Gin?". Regardless of the answers, Foapers showed an amazing creativity, talent, and perfection. Beautiful shots were submitted, all illustrating several appetizers, dishes and cocktails that can pair a glass of Plymouth Gin: oysters, sushi, sweets and even popcorn! Every meal and every drink was carefully decorated. Light and composition were properly taken care of. Very exquisite!
Foaper Ted Dunning, (@threeboydad), based in San Francisco, was rewarded by the Plymouth Gin's team as the winner of the Mission with $300 for the photo above. We've talked with Ted, a father of three boys (no, the username is not just a coincidence ; ) ), to get to know him better. Join us and get inspired!
Hi Ted! First of all congratulations on winning the mission! Such a great shot! How did you come up with it?
I suppose I came up with the winning shot through a combination of hard work and luck. When I saw this mission, I was determined to win. The mission called for pairing Plymouth Gin with food, but no further instructions were given. So I decided to try as many combinations as I could reasonably photograph over the course of a couple afternoons. I submitted fifty photos for this mission, and I'm happy that the sponsor chose my photo and bought several others as well. I was surprised at the photo that was chosen as the winner, as it featured the product in a seaside setting, which was the theme of a previous mission by the same sponsor. It is often quite foggy where I live, and I had been waiting for some sunny days to shoot most of my photos for this mission, but it turned out that my foggy day picture won the mission. And again, luck was a huge factor, because all of the entries for this mission by other Foapers were exceptional.  Every single photo submitted for this mission was phenomenal, more so than any other mission I've seen so far.
How did your interest for photography start and how did you become a Foaper?
Honestly, I've never been terribly interested in photography until I discovered Foap.  I've been a writer and artist all my adult life, and I had occasionally used a camera to take pictures of scenes or settings – usually urban landscapes and heavy industry – which I would then use as models for charcoal drawings I would produce. I had heard of stock photography but always assumed it was something only professional photographers could hope to do. Then about 3 years ago, I heard a BBC broadcast in which Foap was mentioned. I was fascinated and decided that it was something I'd like to try. Ever since I made my first sale on Foap, I was hooked.
You're a father of three boys, living in San Francisco. What else would you like to share with us so that we get to know you better?
My kids are my life. And as any Foaper who is also a parent knows, they provide great material for photography. Living in the San Francisco Bay Area, there are a million potential targets for stock photography. My youngest son goes to preschool just across the road from Mavericks, one of the finest surfing spots in the world. The headquarters of Google, Facebook, and Apple are all just a few miles away.  We have cowboy festivals, Gay Pride parades, world class museums and universities all nearby.  I was in the US Air Force and flew helicopters for a while, aviation being a huge passion of mine. Of course I have taken many photos of all these things and posted literally thousands of them in my Foap portfolio.  But, perhaps ironically, my photos that seem to sell the most are simply pictures of my boys being boys, in settings that could be taken anywhere.  As a side note, my wife and I are planning on having a fourth child, so my Foap username may become obsolete in the near future!
You have 1740 Foap Followers. Why do you think your portfolio is so popular?
Ha! I don't know how to answer this question. I don't think of myself as being "popular" on Foap. Certainly, I've seen plenty of other Foapers who have a much higher amount of followers than myself, and I'm not really keeping count. To be blunt, I'm on Foap to sell photos, not to be on social media. I'm only following one person, and she is my sister. Recently a Foaper left a comment telling me that it was "unthinkable" for me not to be following a whole lot of people. I got a kick out of that. I really have no idea what makes anybody want to follow me, but I do appreciate the nice comments that come my way now and then, they always brighten my day and encourage me to get out there and take more photos. Big shout out to Foapers cabday, jeanello, ibeliever4ever, and lexlebeur for all the positive feedback over the years!
What does it mean to you to be a Foaper?
I love being a Foaper. I have a feeling that the business has legs, and could grow to be a real force in the global stock photo marketplace. Getting in on the ground floor feels like a great place to be. It is a wonderful feeling when a photo is sold. Not because of the money (though that's nice, of course). What really feels great is knowing that someone out in the world, someone I don't know and will never meet, liked my photo and felt they could use it for whatever their needs might be. It is a great feeling of accomplishment. I also like the mystery and wonder – who is buying my photos, and what are they using them for?  Who knows?
Which photo from your portfolio is your favourite one?
It's very hard to pick a favorite photo, but it would probably be one of the first ones I sold. A picture of my middle child playing in our backyard, making an imaginary castle out of an old cardboard box. Or my boys riding their bikes in the house. Or rolling down a grassy hillside on Easter. I suppose every parent thinks pictures of their kids are the best. And in that regard, every parent is right.
Thank you Ted for sharing your story and passion with us! We're lucky to have you in our Community.