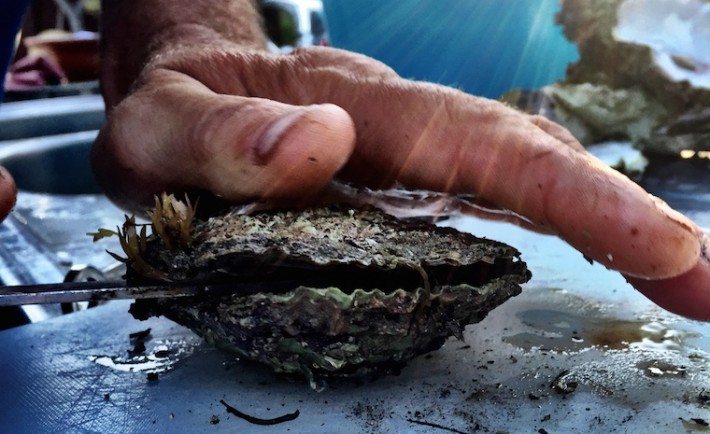 What's Norwegian food? Well, the Norwegian coastline is one of the longest in the world (to be precise, it is as long as 100,915 km*), so it's easy to guess that fish and seafood are very popular.
Visit Norway's "Food Moments in Norway" Mission challenged Foapers to snap great shots of traditional Norwegian food, not least delicious fish and seafood. Today we are happy to announce the winner, Elisabeth Christensen (@elisabeth.biornstad.christensen) who took this great shot above of oysters picked by her brother in Lyngør, in the south coast, for her birthday.
We reached out to Elisabeth to learn more about her and her beautiful photo. Check out the interview below and let the delicious Norwegian oysters inspire you. The first 2 questions below come from Grethe Knapstad Fossen from Visit Norway.
What made you take this photo? Please share the story behind it.
The photo captures the best birthday gift I've ever received. My brother is a fisherman by hobby and for my birthday this summer he prepared this magnificent meal! He picked oysters himself, we had crabs and mussels. The process of opening the oysters and the muscle power needed for this "simple" meal is fascinating. The big male hand, the sharp knife and the oyster is a raw and authentic picture of short-travelled food and its preparation.  
How did  you experience the moment you took this photo?
It was a bright sunny summer day. This kind of day when nature gets really close to you. Being at the water, in the south of Norway, enjoying self-harvested food, the freshest of fresh!
Elisabeth, your portfolio shows many diverse pictures of Norway. What do you like to photograph the most in Norway and why?  
I am spontaneous. I take a lot of Macro photographs, the details of nature is what fascinates me. The tiniest things can be so beautiful. I love nature, changes of the weather and the variety of seasons.
You're quite new at Foap and we'd love to get to know you better. Please, tell us where do you live, what do you do in your daily life and what are your biggest passions.
I live in Norway with my family, just outside Oslo. I am a director of 2 preschools in the local community. I enjoy the outdoors and Norway has a lot to offer in that matter. We live 5 min from the ocean, the wood is just outside the door and the capital, Oslo is a 10 min drive from our house. I love all the opportunities it brings. We have a summerhouse in the south of Norway and a cabin in the mountains. I love being able to enjoy them! I take a lot of pictures everywhere.
How did your passion for photography start? Could you share your story?
My passion for photography has always been there. I have had different cameras throughout life and I love to play with angles and focus from wide angled mountain views to lying on the ground with the ants. After digitalization there are no limits. I carry my macro clip for iPhone with me all the time.
What is your favorite place in Norway?
As I mentioned before, I love woods and the coast. I think I would have to say Risør, a tiny city in the south of Norway. If however, I was supposed to think about Norway in more general terms, I would definitely pick the north. It's all about rough nature, spiky mountains and fascinating wildlife.
If you were asked to recommend 5 Must Sees in Norway, what would it be?
"Norway in a nutshell" is a 2-3days trip that covers a lot: Hurtigruta – a cruise along the coast, west to north,  Oslo of course and Bergen (west) on a sunny day. Jotunheimen, for hiking and the greatest views and of course spectacular Preikestolen and Trolltunga.
Thank you Elisabeth! What a great story! Congratulations for winning the Mission and see you around on Foap and future Missions by Visit Norway.
*According to the Norwegian Mapping Authority (NMA).