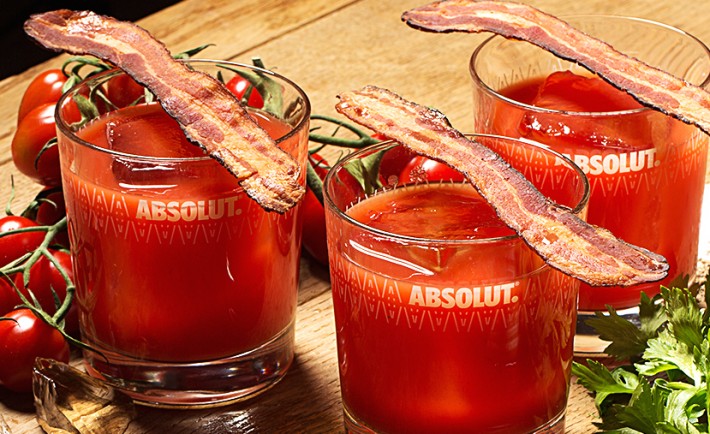 Hello Foaper!
Our friends at Absolut Vodka have a new mission for you: Absolut #TeamBloodyMary.
Show us your Bloody Mary pictures! The mission winner will be rewarded with $100 and the photo will be used in Absolut's channels!
Join the mission now on Foap – if you are using a mobile device, click in any of the links below:
Would you like to learn to prepare a great Bloody Mary? Here we go!
But before we get there, did you know that the origin of the Bloody Mary cocktail is unknown? No one knows exactly who first came up with the idea of mixing vodka, tomato juice and spices like Worcestershire sauce, hot sauce, bouillon, horseradish, celery, salt, black pepper and lemon juice. Well, whoever it is, that person was an artist.
What we know though for sure is that Bloody Mary is today a very popular drink, a brunch classic! In fact, it is a IBA cocktail. What's an IBA cocktail? Ah! An IBA Cocktail is a cocktail selected by the International Bartenders Association (IBA) for use in the annual World Cocktail Competition.
Whether you are a Bloody Mary lover or are completely unfamiliar with it, you will love this new mission!
Okay, are you ready? Let's get it done!
Here's what you need to prepare your Bloody Mary:
Ingredients
2 Parts Absolut Vodka
3 Parts Tomato Juice
¼ Part Worcestershire Sauce
¼ Part Lemon Juice
2 Dashes Hot Sauce
1 Teaspoon Horseradish
1 Pinch Ground black pepper
1 Pinch Salt
1 Stick Celery
How to mix
Stir all ingredients in a mixing glass. Pour into a chilled highball glass filled with ice cubes. Garnish with celery.
Really easy! Enjoy your drink but don't forget to snap some photos before you drink it up. 😉
Cheers,
Team Foap
Pssst….Need more help in getting your Bloody Mary together? Check the video below:
Source: Wikipedia and http://www.absolutdrinks.com/en/drinks/bloody-mary/