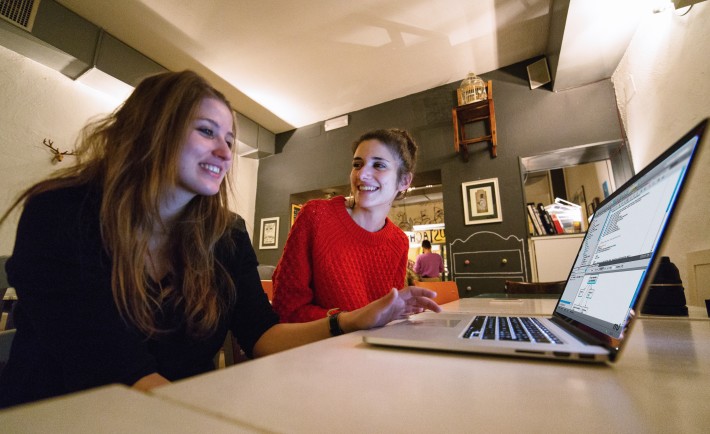 We're happy to share that Foaper Vincenzo Davide Martella @wungenz is the winner of the "Modern business woman" Mission. Congratulations Vincenzo! We love your photo. It shows real women, in natural working situations. That's exaclty what we wanted to capture with this Mission as opposed to artificial stock photography of business people with white backgrounds and fake smiles.
Thanks to all Foapers that faced this challenge. Now, read the interview with Vincenzo to learn more about the winning picture and his adventure with Foap.
Vincenzo, congratulations on winning the mission! You're quite new at Foap. How did you learn about Foap and why did you start using it?
I've discovered Foap when browsing through the Apple Store and looking for a tool that would help me promote my photos.
We'd love to get to know you better. Where are you from, what do you do when you're not Foaping?
I'm from Peschici, a small town in southern Italy, but I moved to Bologna ten years ago. I work as a storekeeper in a popular clothing chain. In my free time I keep myself busy with my main passion: photography.
The winning photo is really nice. How did you come up with this idea? And how did you manage to take this shot?
Thank you very much. I was in a pub with two friends. They were having a drink and one of the girls pulled out a notebook to respond to the email. I really liked the location and luckily I always carry my camera equipment with me! 🙂
When looking at your portfolio, you can see lots of different kinds of photos from different places. How do you take this photos? What's your approach to creating the Foap portfolio?
Let's say that I like to take pictures at 360 degrees. I like to capture the moment. Carpe diem.
If you would choose a favorite photo on your portfolio, which one would it be? And why?
No doubt, it would be the photos of the Northern Lights in Norway taken last year. It's not so much about the quality of the pictures (there are far more beautiful), but more about the greatest experience I've ever had. Being there, under that magic sky is a feeling that can not be described. Neither in word nor with a photo.
Finally, what is your next place or subject you're planning to photograph? Or maybe you want to join a mission? Let us know about your Foap plans.
My goal is to make a trip to India. I think it's a dream of every photographer. The colors, people, costumes … It's an incredible destination! But the journey is a bit expensive, so for now it remains just a dream. To stay more on the real, I've recently bought a macro lens, so now I'm experiencing this kind of photos.
Thank you Vincenzo for sharing your story and your talent with us! We keep our fingers crossed for your dream trip to India and would love to see your photos taken with your new macro lens soon!