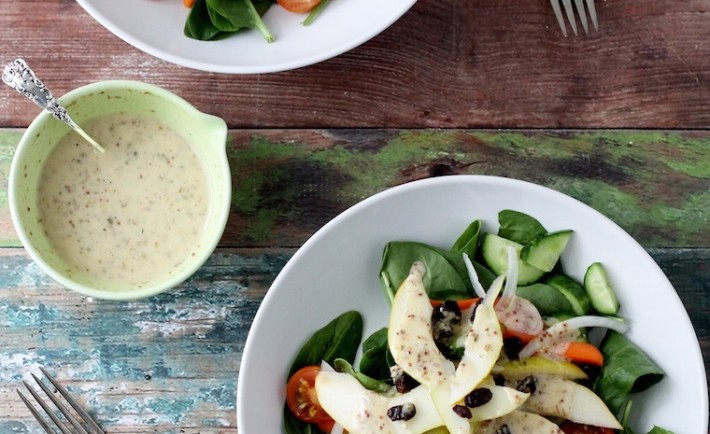 She's a chef with 10 years of experience turned food blogger. She loves food and she loves photography.
Ladies and gentlemen, meet the talented Katy Galvin (@freerangekaty), the winner of the "Healthy Meal Mission".
Katy! First of all congratulations on winning the mission! Your winning photo (pictured above) is beautiful. Great colors and elegant composition. It looks healthy, fresh and delicious! Can you tell us something about this shot?
I am a food blogger in my spare time, and this photo was a capture on my phone of a new recipe for Pear and Spinach Salad with Esperanza Dressing. I often post pictures from my phone to social media accounts of everyday eats to see which recipes my followers might be interested in. I make my salads for my husband and myself for lunch on a regular basis as a way to eat lots of nutrient dense raw fruits and veggies, but I try to make it interesting by always having a variety of fun toppings, and always a homemade dressing. Pears happened to be in season, so I started with those as inspiration, and went from there.
We noticed that you are quite new on Foap. How did you hear about the Community and why did you decide to join?
I'm a big fan of photography based social media, and I came across Foap in an blog article about how photographers can make extra money in a fun way. I haven't sold any photos yet, but I did win this particular contest, so I am definitely glad I joined! I also like that the contests give you an assignment and some inspiration.
Katy, we'd love to get to know you better. Who are you, where do you live and what do you do?
I live in Virginia Beach, VA with my husband, although we are both originally from the South. After I graduated from culinary school in Atlanta, I worked in the restaurant industry for ten years. I decided to change careers to work more traditional hours, and began blogging and teaching.
Your interest in cooking is very clear in your portfolio. Was it a natural step? To take photos of something you loved?
Really, my interest in photography is more about the interest in food. I learned to cook at an early age, and I have always been an adventuresome eater. I have also always loved to write and teach, and so becoming a food blogger was a natural fit for me. As a food blogger, the best way to attract readers and followers is to make your food LOOK as good as it tastes. Over time I learned what worked and what didn't, did some research, read some books, networked with other food bloggers about how they learned their skills, and I practiced a lot.
Could you share some tips with other Foaper on how to photograph food?  
Of course! I actually wrote an article about just that topic on my blog FreeRangeKaty.com about Seven Secrets to Better Food Photography. Number 6 is my favorite – it's all about learning how to tell a story about the recipe, using the food itself.
That's amazing! Now, last but not least…You have many beautiful photos in your portfolio. But which one would you pick as your favourite one?
My new favorite one I just added is called "Strawberries for Days" – I took it right after I came home from the farmers market with a flat of fresh strawberries to turn into jam. It's simple, colorful, and shows how pretty strawberries naturally are.
That's a really gorgeous shot! Thanks Katy for inspiring us with new recipe ideas and great photos!
Profile

Name: Katy Galvin
Lives in: Virginia Beach, VA, US
Family: Husband
Profession: Food blogger and teacher
Blog: http://freerangekaty.com/
Foap: @freerangekaty
Instagram: @freerangekaty