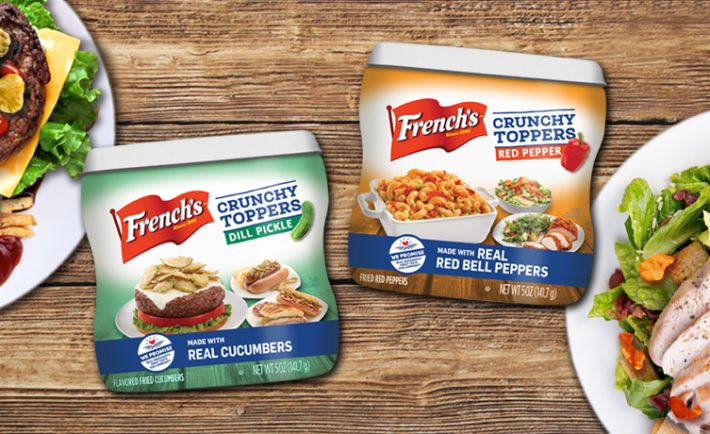 Hi Foapers,
We just launched a new Mission with French's called "French's New Crunchy Toppers" You can see all the details here:
https://www.foap.com/frenchs/frenchs-new-crunchy-toppers
Remember that the best photo will get $500! So jump in and start shooting.
But you are here for a different reason 🙂 Here are some nice recipes to get you started!
1. Caesar Chicken Salad with Crunchy Red Peppers
Ingredients
1/3 cup olive oil 
6 Tbsp. fresh lemon juice 
4 tsp. anchovy paste 
2 tsp. FRENCH'S® Classic Worcestershire Sauce 
1/2 tsp. salt 
1/2 tsp. ground mustard 
2 cloves garlic, finely chopped
2 (4 or 5 oz.) boneless, skinless chicken breasts 
2 heads romaine lettuce, torn into bite-size pieces (10 cups)
1 cup FRENCH'S™ Crunchy Toppers™ Red Peppers 
1/3 cup shaved Parmesan cheese 
Directions
WHISK oil, lemon juice, anchovy paste, Worcestershire sauce, salt, mustard and garlic together until well blended.
RUB both sides of each chicken breast with half of the dressing mixture; Cover; refrigerate 30 minutes to marinate.
HEAT gas or charcoal grill. Place chicken on grill over medium heat. Cover grill; cook chicken 15 to 20 minutes, turning once or twice, until juice of chicken is clear when the center of thickest part is cut (170°F).
TOSS romaine in a large bowl with remaining dressing until coated.
CUT chicken into strips; serve over salad. Top with Crunchy Red Peppers and Parmesan cheese.
http://www.frenchs.com/recipe/caesar-chicken-salad-with-crunchy-red-peppers-RE002885-1
2. Crispy Red Pepper Chicken
Ingredients
3 cups FRENCH'S™ Crunchy Toppers™ Red Peppers 
3/4 cup mayonnaise 
1/4 cup grated Parmesan cheese 
2 tsp. garlic salt 
6 boneless, skinless chicken breast halves, (about 2 lbs.)
Directions
PREHEAT oven to 350° F. Place Crunchy Red Peppers into a plastic bag; crush lightly with a rolling pin. Transfer to a pie dish.
MIX mayonnaise, Parmesan cheese, and garlic salt together. Brush chicken with the mixture to coat evenly, then place into crumbs, pressing gently to coat well.
PLACE chicken into a foil-lined 10-inch x 15-inch baking dish. Bake 25 minutes or until chicken is no longer pink in center.
http://www.frenchs.com/recipe/crispy-red-pepper-chicken-RE0230-2
3. Dill Pickle Slaw
Ingredients
3 Tbsp. Hellmann's ® Real Mayonnaise 
3 Tbsp. FRENCH'S® Classic Yellow® Mustard 
3 Tbsp. dill pickle juice 
1 (16 oz.) package coleslaw with extra carrots 
3 Vlasic® Kosher Dill Spears, thinly sliced
1 small red onion, thinly sliced (about 1 cup)
Directions
COMBINE Mayonnaise, Mustard and pickle juice. Add coleslaw, pickles and onion and toss to coat. Serve as a side or on burgers, sausages or hot dogs.
4. French's Grilled Brats with Crispy Dill Pickles
Ingredients
4 bratwurst 
4 brat or Italian rolls 
1/4 cup FRENCH'S® Classic Yellow® Mustard 
2 cups FRENCH'S™ Crunchy Toppers™ Dill Pickles 
Directions
GRILL brats until cooked and lightly browned.
ARRANGE brats on rolls. Squirt Mustard on brats.
TOP with Crunchy Dill Pickles.
Tips
For even more authentic brat flavor, simmer brats in beer for 10 minutes before grilling.
http://www.frenchs.com/recipe/frenchs-grilled-brats-with-crispy-dill-pickles-RE2262-3
So there you go. 4 delicious recipes to help you get started. Make sure to show us your creations in the Mission.
Good luck!
Love ❤️
The Foap Team