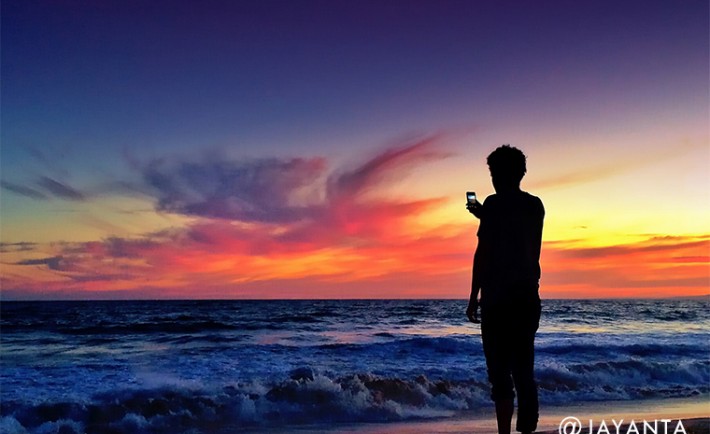 Q&A with the talented Foaper Jayanta Jenkins, Global Creative Director at TBWAChiatDay
We've all got the same passion to capture beautiful and magical moments. Our smartphone cameras are always prepared to take the next great picture. Yet, we have very different backgrounds and stories. We're a family of  nurses, rockstars, teachers, engineers, students, doctors, skaters, grandmas, writers, lovers, athletes, receptionists, CEOs, stay-at-home moms, bus drivers, skydive instructors and much more… The Foap family has grown rapidly and we get new siblings each day as more and more join Foap from all corners of the globe (still waiting for that first Antarctica user though).
On the topic of various backgrounds I'd like to introduce you to a Foaper who works in the advertising industry. His name is Jayanta Jenkins and he's the Global Creative Director at TBWAChiatDay in Los Angeles. That's the agency known for creating that legendary 1984 Apple ad, considered by many to be the best Superbowl ad of all time.
Jayanta is responsible for all marketing communication for Gatorade. Globally. Wow! Before that, he worked with brands such as Nike,  Seiko, and Wrangler Jeans. There's a good chance you've already seen some of his ads out there. Check some out here.
Besides his everyday job, Jayanta is a very talented "street photographer" and maybe you've already crossed paths on Foap or Instagram? He has more than 23k followers just on Instagram!
The Foap team has been inspired by his knowledge, talent and experience and maybe he'll inspire you too :-)?
Foapers, meet the man behind the ads: @Jayanta.
Jayanta, you're somewhat of a legend in advertising, so please tell us: Is it anything like Mad Men?
I'm extremely grateful to be in a industry that allows me to connect, tell and create uplifting and fun narratives via brands. I use the word "narrative" because that's what great agencies on Madison Avenue in the beginning of the creative revolution were doing during the "Mad Men" era.
How is stock photography usually perceived by people at an agency? Do you usually need to buy stock photos? And have you ever used one of your own photos for a client? 😉
One of my best known print campaigns for Nike called "Enjoy the weather" used all stock images. There will always be a need for stock photography but the trick is finding a place that sources images that don't feel like "stock" photography. I think Foap is a great example of a 21st century approach to crowd sourced imagery.
As a marketer, how do you feel being on the other side? I mean, on Foap you're actually selling your photos to other marketers.
Getting on Foap was an experiment for me. There's not a moment I'm not shooting and I simply liked the idea of Foap. My interest in participating was to see if there would be any commercial interest in my style and approach to photography. I've been pleasantly surprised that my work has been selling.
Your photos are fantastic! Are all of them taken with a smartphone?
Thank you for the love of my photography. 97% of my photos on Instagram are taken and edited on my iPhone 5S. I like the immediacy of shooting and sharing and my phone is always with me so by virtue so is my camera.
When and why did you start with street photography?
Since I was a child I've been surrounded by photography. My father shoot a lot during his time in Vietnam as hobbyist photographer. My uncle (his brother) was commercial photographer for a bit. I started shooting when I was 15  and began processing my own film and printing as well. My style is born out of my love for Ansel Adams, Ernst Hass, Minor White, Edward Steichen, Gordan Parks, Mary Ellen Mark, Gary Winogrand, Kenji Aoki and many others.
What apps, if any, do you use to edit your photos?
My go to apps are MPRO, McPRO, Snapseed and Filterstorm.
One of your photos was recently bought by Europe's largest airline, Lufthansa, and was published on

their twitter

. How does it feel when a company chooses your photo for something like that?
If feels really great to create imagery that brands want to use to tell stories.
Thanks so much for being part of the Foap family and once again congrats to an amazing Foap portfolio!