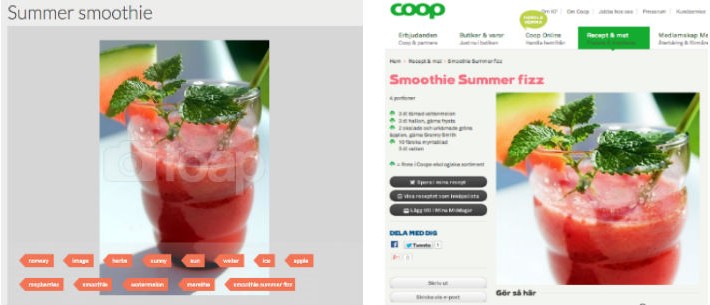 This blog post is for you that like to read about what happens behind the scenes. After all, there is one thing you're curious about regarding Foap: who is buying the photos and how are they being used?
Today we'll talk about how Coop, one of Sweden's largest supermarket chains, has been using photos from Foap. If you're working with marketing then you'll probably like what you read here. I'm just saying…
Coop has one of Sweden's largest online digital recipe books. Most of the recipes has an image that illustrates the delicious end product you should get when carefully following the steps described. What about if we ask the Foap community for the photos of some recipes that are missing photos? That's quite daring, don't you think? But that's what Coop did. Twice.
First they posted a mission asking the foapers out there to prepare a watermelon smoothie. They got several great images that you could be sure were taken of the requested smoothie. The rewarded photo was later published on Coop's recipe book. Later they asked our gastronomic foapers for a photo of a chocolate cookie. The rewarded photo did it to the recipe page again. That's quite impressive, don't you think? Living in a time where marketers fight to get a like on Facebook, how can you explain that Coop actually got several entries of a recipe photo?
Talking about likes on Facebook… Coop has been good at that too. At the end of December they posted a puppy photo from Foap on their Facebook page to illustrate the message "We'll not sell fireworks this year, taking in consideration all the puppies and people out there that have a bad experience with them". The result? the post went viral and got almost 5800 likes and 3500 shares (normally they get between 100 and 400 likes on a post).
So, now you know a little more about where Foap photos end up and how Coop has been using them.