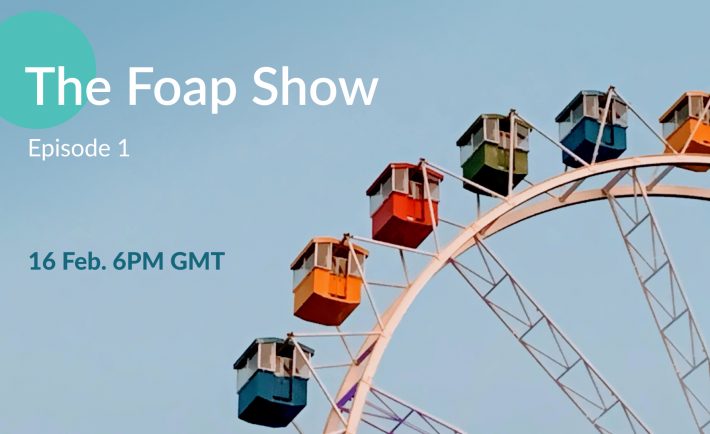 We are delighted to invite you to The Foap Show – a new series of live webinars for the Foap community.
The Foap Show (#1)
? Program:
▪️News spotlight: Quick update on whats new in the world of photography and video
▪️Winners announcements: Find out who won our most recent Missions and why
▪️Ongoing and new Missions: Get a sneak peek of upcoming Missions. Get ahead of the game!
▪️Foap news: Discover new brands joining Foap and new features that will be released soon
▪️Q&A session
Below you will find answers to questions we weren't able to respond to during the webinar:
Any plans on 35mm or medium format competitions?
Thanks for the idea! We just started the only-analog-photos mission.
Is Foap moving away from phone photography?
Absolutely NOT. We believe there will always be a place for smartphone photographers and those who prefer traditional cameras. Inspired by this question, in a few days, we plan to launch Mobile Series missions – for smartphone photographers only.
I live in Uzbekistan and PayPal is not available here. What should I do?
The whole payment process, also because of local laws and restrictions, is quite complicated when it needs to be available worldwide. Implementing any other system requires a lot of work and funds. Currently, the only payment method on Foap is PayPal. We can not recommend it, but if you have any friends living abroad you can ask them to use their PayPal email in our app to receive money and then send the money via any financial platform which is available in your country to you.
Does every mission have a purchasing client? Some missions mention a brand, some don't.
Almost all missions (also created by Foap Missions, not a specific brand) have rewards and you can make money on them. The simplest way to check out what you can earn in the mission is to open a mission and tap "Rewards".
Can we have an animal for emotions challenges?
Sure, you can! Animals have feelings too! Actually, you can publish any photo you like as long as it can be related to the titled mission. It can even be a landscape or an abstract photo. For example, for the "Happiness" mission, you can upload a photo of orange fluid because this color can be felt as "happy", and it can win this mission.
Where are you based and how big is your team?
From the legal perspective, Foap is based in Warsaw, Poland, but our team of around 20 people is working from many places around the world.
Why don't you take into account the date of the pic for the Photo of the Week and the Photo of the Month missions?
Most probably, the only way to check out when the photo was taken is to check out the EXIF data. Many uploaded photos do not have this data available (they were cleared on postprocessing or were not available because the photo was taken with an analog camera). We believe that most of our users would prefer not to be forced to upload photos with EXIF data.
Can older photos be resubmitted to future missions or re-uploaded to your profile?
There is no functionality to resubmit a photo into other missions, but feel free to re-upload the same photo in many missions.
Why are some photos not accepted?
Brands can choose to show only the best photos, but in most missions photos do not need to be accepted and are visible just after being uploaded. Check out our support page about this topic.
Can you start sharing how many images were uploaded for a particular mission?
Thank you for this idea! For now, there is no functionality that would make this number visible to you, but we will discuss this feature for future releases.
Are photos in competitions available in the Market space?
Not immediately. About 3 months after the mission ends photos from missions are available in the Market and can be bought even if they didn't win the mission.
I've seen really bad photos winning and good ones get ignored. People who comment more have more chances of winning. How true is that?
Choosing winners is not a simple task and will always be subjective. We only use comments to choose winners when it is specifically mentioned in the mission's brief, otherwise- the photo needs to speak for itself! Actually, at the last stage of choosing winners, we do not even check who the photo's author is to make it as fair as possible. Sometimes, when it is a really close call between our favorite picks, we check ratings and the number of votes. Please go to our blog post for more information about choosing the winners.
Do you prefer photos without effects and editing? Can you admit too much photoshop work?
Balanced postprocessing (like, for example, improved contrast or lighting) is fine, but all photos should look authentic and natural. Definitely, we do not recommend spending too much time on software enhancements – composition and the moment are valued the most.
Could the tagging part be easier for us?
Thank you a lot for this feedback. We can't say when it will be changed, but we're making some adjustments to this functionality.
Thank you for watching! The next webinar will be announced soon!